Sometimes, I think I should rename this blog to "Woes of a Single Woman." But then I'd have to buy a whole new domain name, and that's just not worth it.
I'm back to trying online dating. It's something I've done before (see:
My Tinderella Story
), and have never really had much success in the love department. I
have
, however, had much success in the good story department with online dating.
This time around, I've been using Mutual. Mutual is basically Tinder for members of the Church of Jesus Christ of Latter-day Saints (the religion I'm a part of). Members in this organization tend to marry others within their same religion. Combine that with a high concentration of members in Utah? Mutual is generally a good place to try online dating for free.
If you don't know what Tinder is, I applaud you for being that out of the world that you don't even know what Tinder is. For an explanation of what it is, click on the blog mentioned above. In that blog, I give a description of what Tinder is and how it works.
Anyway, I've been
much
pickier than I have been in the past when deciding who I'm interested in and would like to chat with. I was exhausted of going on awkward dates with people I met online, and decided to put an end to it as best as I could. So, thankfully, I haven't had uncomfortable dates.
I have, however, ran across some . . . interesting profiles. And, I think they're worth sharing on my awkward blog.
I tried to hide these guys' identities as best I could. So, names and faces are scribbled out using my highly quality photo editing option on my iphone.
So without further ado, here's what I found to be the most cringy and/or entertaining bios and pictures on Mutual. Please enjoy.
Alright, let's start with this guy. Look, if you have to specify that you're not gay, the chances are, you probably are actually gay. You may not realize it yet, but . . . you're probably gay.
Also, the rest of the bio is just kind of hilarious. It's like reading the bio of a teletubbie.
Speaking of funny bios, here's this lil guy. It made me chuckle. If one of you guys listen to his podcast (or, pawdcats), let me know how it is. I'm listening to too many true crime podcasts right now to add another to my list. Also I hate cats.
Okay, now with this guy. How
DARE
you put Beyonce and Kim K. on the same level! I'm not even a big Beyonce follower and have probably only listened to two of her songs, but I
know
she is far more talented and respectable than Kim K!
HOW DARE YOU INSULT THE QUEEN
.
HOW DARE YOU.
And while we're on the subject of insulting bio's . . .
Maybe I'm biased because I'm a dog mom . . . but is this totally douchey? It comes across as totally douchey. And since it's douchey, I can be douchey back, right? Cause he is not tall enough or rich enough to make such a judgmental statement. Once you grow at least five inches and get a real job, then you can tell women to be emotionally stable. And even then? JUST DON'T DO IT.
Okay okay okay. Now, I don't know why, but the "tickle your back" statement makes me shiver. And, not the good kind of shiver. The creeped-out kind of shiver. Maybe it's cause I'm not ticklish, and get tired of guys attempting to flirt with me by poking my sides and it turns into just that. Just a little fella obnoxiously poking my sides as I stare at him with a dead look on my face. It's very obnoxious.
Aaaaaaaaaand speaking of unwanted physical contact. . .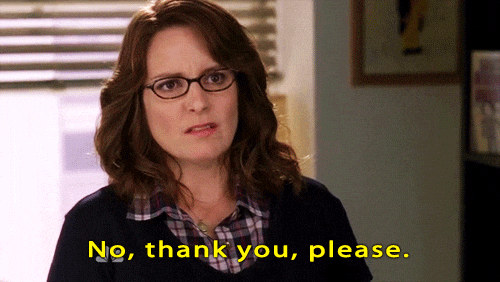 Aaaaaaaaand on the topic of things not to say . . .
I just . . . I just can't. I cannot express how much this grosses me out.
Yeah okay so I circled the "from" answer, cause I thought it was weird, but then I read the entire profile . . . and decided that basically the whole profile was weird. The guy's really good at not answering the questions presented to him with a straight answer. He should be a politician.
'Ight. Before we transition over to amusing pictures featured on Mutual, we'll cover this conversation I had with a guy on the app.
Background info: he asked if I was from Utah. It lead to this:
The bigger thing to do would be saying something like, "Oh, okay. I'm sorry, but I'm not interested in something that would ultimately be a long distance or not go anywhere."
Something like that.
But instead . . . I ghosted him. (Ghosted is a slang term that means you just ignore someone that's interested in you until they go away.)
Alright. Now for the pictures.
This was one of the guys pictures. He also didn't have his name listed. Or any personal information about himself. And not really any clear pictures of his face. So I legit knew nothing about him. But hey, some girls are into the mysterious type.
This fella gave ZERO explanation as to who this bride he's kissing on the cheek is. And, let's be real.
It looks like he's the groom!
Maybe he is. There's nothing to say otherwise.
I wish him and this woman the best future together. I hope they're happy together 💗
Okay, a couple things about this.
1.
I think I did a better job hiding his identity than this guy did of hiding this chick's identity.
2.
Why did he even use this picture?? First of all, it has - what I assume to be - his ex girlfriend in it. Second of all, the quality of this picture isn't that good, either. The lighting is bad, the angle of the face is bad . . . I'm just like,
surely
there's a better picture of you that you could've used!
3.
If by "you," you mean that I have the chance to one day be featured on your dating profile with my face poorly blurred out? . . . Pass.
These last two? They just made me laugh.
I don't think I'll meet my future spouse online. That's just my gut feeling, and I could be wrong. Regardless, online dating has brought some joy, awkwardness and dates into my life. And for that, I'm grateful.